This article was previously published on the Indian news website
Firstpost.com
.
On 26 December 2017, foreign ministers of China, Pakistan and Afghanistan
held their first dialogue
at Diaoyutai State Guesthouse in Beijing. The dialogue was the culmination of Chinese initiatives since June 2017 to bring Pakistan and Afghanistan together, resolve their differences and ensure China's enhanced role in shaping its immediate neighbourhood.
The
press release
after the meet exhorted both Pakistan and Afghanistan to jointly work together on political mutual trust and reconciliation, development cooperation and connectivity, security cooperation and counter-terrorism.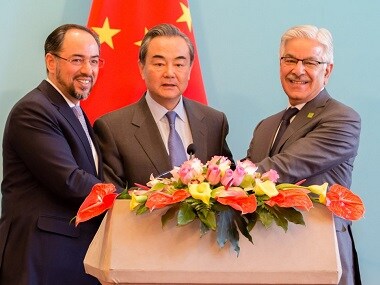 The political mutual trust and reconciliation here refer to the removal of hatred between Pakistan and Afghanistan while the development cooperation and connectivity refers to the extension of the $62 billion China-Pakistan Economic Corridor (CPEC) to Afghanistan. This China sponsored dialogue is an attempt to reduce the 70-year-old hatred and animosity between both Pakistan and Afghanistan, through dreams of common prosperity and economic means.
Pakistan foreign minister Khawaja Asif (right in the above image) said China's efforts to improve Pakistan-Afghanistan ties would bring peace and development in the region.
Ghani in China (dw.com)
If this cooperation and peace in their common region are achieved, China will be able to stabilise the situation in its western parts. In addition, it will ensure the safety of personnel and goods in the CPEC corridor and finally get a secure access to the sea from its landlocked western region.
Besides, Afghanistan has been
eager to join
CPEC since October 2016 and often expressed its desire in this regard. One of the main objectives of President Ashraf Ghani is to convert
Afghanistan into a crossroad
connecting West Asia, south, east and central Asia. Additionally, Afghanistan needs substantial investment in its infrastructure and therefore, looks towards Chinese institutions for financial and technological help. The development of Afghan mines of copper and iron ore are another opportunity for close cooperation.
However, China has so far stayed away from investing in Afghanistan due to the precarious security situation. The opposition from Taliban and Pakistan, as well as the presence of US forces in the country, were other limiting factors that prevented China from taking a serious interest. However, the geopolitical situation in this region has become ripe for a major transformation.
Indian wheat en route to Afghanistan (ifpnews.com)
The conclusion of India-Iran-Afghanistan trade corridor and the dispatch of nearly 1.1 million tonnes of wheat to Afghanistan, through Chabahar Port in Iran, has suddenly reduced the importance of Pakistan's ports. China
believes that
the Chabahar Port and other Indian initiatives, such as its support to 116 influential projects in 31 provinces in Afghanistan, are aimed to undercut CPEC and increase India's hold in Kabul.
Afghans welcome Indian wheat (ifpnews.com)
These 116 India-sponsored projects will cover hydropower construction, farmland water conservation projects and renewable energy among others that will directly affect lives of the common people. As per China, India aims to win over Afghanistan through these projects and harm Pakistan from there, which the extension of CPEC will disrupt.
This Chinese mediation strategy is another instance of China striving to shape its immediate neighbourhood. In the process, China is also actively seeking to reduce India's long-standing dominance in South Asia through economic and military means. The trend is not difficult to discern.
Wherever China believes that its financial muscle can be used, gradually and in a sustained manner, to buy the allegiances of pro-Indian voices in South Asian countries, it has used that method in copious amounts. However, if the financial muscle doesn't work, other pressure tactics including military ones are used, as evident in the case of Bhutan.
In the last decade, China has used this strategy to increase its influence in Sri Lanka, Maldives, Myanmar, Bangladesh, Nepal and Pakistan. In Sri Lanka, Myanmar and Maldives, the complicity and corrupt nature of their top leadership and their relative international isolation were effectively used by China for predatory financing and acquisition of crucial dual-use assets.
In Bangladesh, apart from multiple economic collaborations, Chinese state-owned institutions have concluded a number of financial deals with traditional pro-Indian voices to influence and reduce their advocacy. The relative independence of Bangladesh military in its own affairs and corruption in its officer ranks presents as an opportunity for China to increase its influence there.
Most of the China-Bangladesh weapon acquisition deals are opportunities to make money. China uses this corruption to increase its influence. It has further positioned its role as a power broker between the political parties and the military in Bangladesh.
Similarly, Left-oriented political parties and self-serving leaders in Nepal are seen as potential collaborators in facilitating China's influence in South Asia. The weakness and corruption in democratic systems have become an effective route for Chinese exploitation.
Nevertheless, Afghanistan is going to be a difficult case for China. Pakistan has traditionally aspired to increase its strategic depth in Afghanistan. Therefore, it needs to ensure a pliant regime in Kabul which will not provide India with any space against Pakistan. In addition, the pliant regime would ensure that Pashtuns on the other side of the Durand Line do not attempt to secede from Pakistan. To this end, it financed and supported Taliban and the Haqqani terrorists to destabilise Afghanistan and has played a double game since.
Durand Line Dispute (Firstpost.com)
Afghanistan, on the other hand, argues that the Durand Line has lost its relevance and Pashtuns rightfully belong to it. Moreover, the constant barrage of terrorists, coming from Pakistan and deteriorating situation in Kabul has sapped any remaining trust and goodwill between two people. Therefore, unless the security situation improves, none of the peace initiatives is going to work. In fact, two days after the trilateral dialogue, a suicide bomber
killed 41 people
and wounded 80 others in the Afghan capital, Kabul.
In sum, the first China-Pakistan-Afghanistan trilateral dialogue did help to bring all three countries together on a forum and let them discuss crucial issues related to peace and development. However, Afghanistan has tried talking to Pakistan even earlier. Ghani even went to the Pakistan Army Headquarters to talk to the real rulers of the country.
Even then, not much has changed and a lot of frustration has set in between their bilateral relations. Unless, Pakistan becomes sincere in its peace efforts, neither China nor the US will be able to bring much improvement in Afghanistan.
However, with the increase in Chinese investments in Pakistan through CPEC, China's worry on the security front is growing by the day. The increasing Indian role in Central Asia through Iran and Afghanistan is another factor that China considers against its interests. Predictably, China will persist with initiatives of this kind in future. Any success, however, will depend upon China's bargaining leverage over fundamentalist forces and the deep state in Pakistan.